Full Time
Applications have closed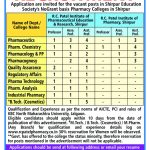 R C Patel Institute of Pharmaceutical Education and Research
R.C. Patel Institute of Pharmaceutical Education & Research, Shirpur
Professor
Pharmaceutics – 1
Pharm. Chemistry – 1
Pharmacology & PP – 1
Quality Assurance – 2
Regulatory Affairs – 1
Pharma Technology – 1
Pharm. Analysis – 1
Industrial Pharmacy – 1
*B.Tech. (Cosmetics) – 1
Associate Professor
Pharmaceutics – 3
Pharm. Chemistry – 1
Pharmacology & PP – 2
Pharmacognosy – 2
Regulatory Affairs – 1
Pharma Technology – 1
Pharm. Analysis – 1
Industrial Pharmacy – 1
*B.Tech. (Cosmetics) – 1
Assistant Professor
Pharmaceutics – 4
Pharm. Chemistry – 2
Pharmacology & PP – 2
Pharmacognosy – 4
Quality Assurance – 1
Regulatory Affairs – 1
Pharma Technology – 1
Pharm. Analysis – 1
Industrial Pharmacy – 1
*B.Tech. (Cosmetics) – 5
R.C. Patel Institute of Pharmacy, Shirpur
Professor
Pharm. Chemistry – 1
Associate Professor
Pharmaceutics – 1
Pharm. Chemistry – 1
Pharmacology & PP – 1
Pharmacognosy – 1
Assistant Professor
Pharmaceutics – 3
Pharm. Chemistry – 4
Pharmacology & PP – 3
Pharmacognosy – 3
Qualification and Experience as per the norms of AICTE, PCI and rules of KBC North Maharashtra University, Jalgaon. Eligible candidates should apply within 10 days from the date of publication of this advertisement. *M.Tech. / B.Tech. (Cosmetics) / M.Pharm. (Any Branch) for qualification and experience. 30% reservation for Women will be observed.
**Govt. has offered to the college the status minority, therefore reservation for posts mentioned in the advertisement will not be applicable.
Applications should be send at following address or email your resume on registrar@rcpatelpharmacy.co.in, rcpiop2003@gmail.com
This listing has expired.