M Pharma Admission Open 2021-22 at National Forensic Science University (Gov. Uni.), Gandhinagar, GUJARAT
The National Forensic Sciences University with the status of an Institution of National Importance is the world's first and only University dedicated to Forensic, behavioral, cybersecurity, digital forensics, and allied Sciences. It was established by the Government of India through Act, 2020 (32 of 2020) with the objective of fulfilling the acute shortage against the increasing demand for forensic experts in the country and around the world.
Gandhinagar Campus is the first campus of National Forensic Sciences University at Gandhinagar, Gujarat. The Gandhinagar Campus of the National Forensic Sciences University is running 46 courses in the eight schools namely, School of Doctoral Studies and Research, School of Forensic Science, School of Cyber Security and Digital Forensics, School of Management Studies, School of Engineering and Technology, School of Pharmacy, School of Behavioral Sciences and School of Open Learning. Due to the advanced and specialized courses run by each of the schools, it currently offers only postgraduate level academic programs. Maintaining excellence in education, research, and training with appropriate facilities within this campus encourage collaborations across multiple disciplines and skillsets.
Admission Open 2021-22 at School of Pharmacy, National Forensic Science University, Gandhinagar
Courses: M.Pharma
Specialization: 
Quality Assurance
Forensic Pharmacy
Courses: MSc
Specialization: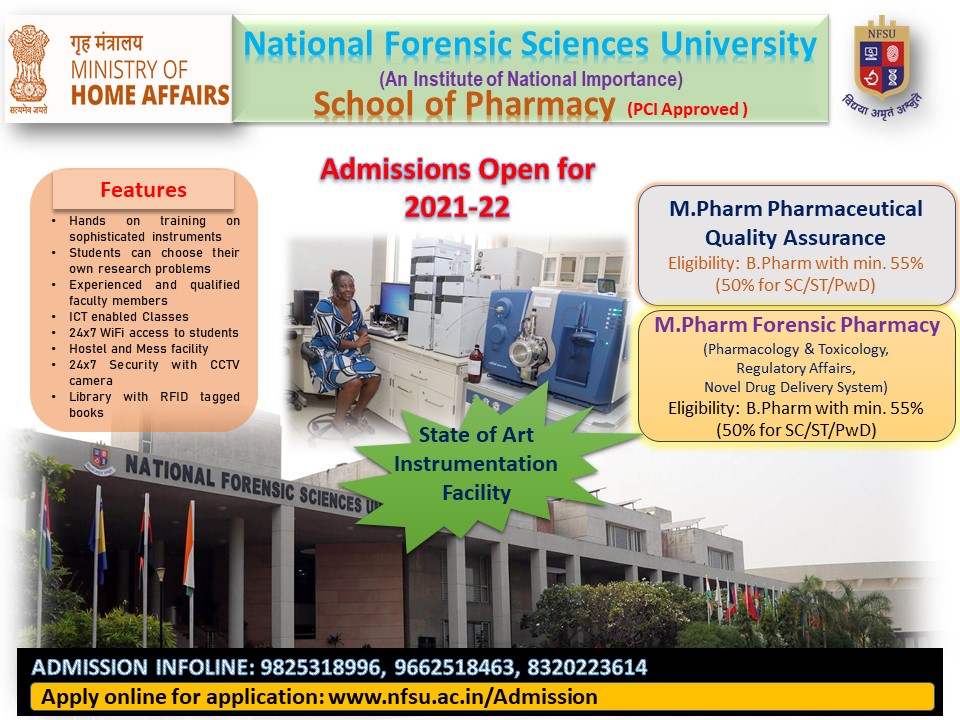 Online application start date: 07 July 2021
Closing of online Application for all programs: 21 August 2021
Receiving of Hard copy of application: 31 August 2021
Issue of Admit Card: Till 10 Sept 2021
Entrance Examination date: 18- 25 Sep 2021
Last date of submission of mark sheet (Computer generated or Online copy): 01 Oct 2021
Entrance test Results: 05 Oct 2021
Hostel Facility: Click Here
For quick Query Solution: Fill Below form