NEET (UG)2020: Registration Form, Syllabus, Fee by NTA

NATIONAL ELIGIBILITY CUM ENTRANCE TEST (UG) 2020
(NEET (UG) – 2020) will be conducted by National Testing Agency (NTA) for admission to MBBS/BDS Courses and other undergraduate medical courses in approved/recognized Medical/Dental & other Colleges/ Institutes in India.
Important Points about NEET 2020
1. Candidates can apply for NEET (UG)-2020 through "Online" mode only.
2. Submission of Online Application Form may be done by accessing NTA website. The Application Form in any other mode will not be accepted.
3. Only one application is to be submitted by a candidate.
4. Candidates must follow the instructions given in the Information Bulletin and on NTA website strictly.
Candidates not complying with the instructions shall be summarily disqualified.
5. Candidates must ensure that e-mail Address and Mobile Number provided in the Online Application
Form are their own or parents only as all information/ communication will be sent by NTA through email on the registered e-mail address or SMS on registered Mobile Number only.
6. Instructions for filling Online Application Form:
❖ Download Information Bulletin and Replica of Application Form. Read these carefully to ensure your eligibility. In case a candidate is found to fill in more than one application, the admit card will be cancelled/withheld and his/her candidature will be forfeited for this/future examination.
❖ Follow the steps given below to Apply Online:
Step-1: Apply for Online Registration using your or parents unique Email Id and Mobile No.
Step-2: Fill in the Online Application Form and note down the system generated Application No.
Step-3: Upload scanned images of Candidate's latest Passport size Photograph (size: 10 kb to
200 kb), Post Card size photograph (4"X6") (Size: 50 kb – 300 kb) and Candidate's Signature (file size: 4kb – 30kb), Left hand thumb impression (file size: 10 kb-50 kb) in JPG/JPEG format. (In case of any eventuality of left thumb being unavailable, right hand thumb impression may be used.), Class X Passing Certificate (file size: 100 kb to 400 kb) in JPG/JPEG format.
For photography, the focus needs to be on face (80% face coverage, ears clearly visible, on white background).
Step-4: Pay fee using SBI/Syndicate/HDFC/ICICI/Paytm Payment Gateway through Debit Card/Credit Card/Net-banking/UPI and keep proof of fee paid safely for future reference. In case the Confirmation Page is not generated after payment of fee then the transaction is cancelled, and amount will be refunded to the candidate's account. However, the candidate has to make another transaction of fee, in case the Confirmation Page is not generated.
❖ Download, save and print copies of Confirmation Page after successful remittance of fee and keep copies safely for future reference.
❖ All the 4 Steps can be done together in one go or at different times.
7. Candidates are advised to regularly visit the NTA website and also check their e-mails/SMS for latest
updates.
8. Candidate shall appear at their own cost at the Examination Centre on Date and Timing indicated on
their Admit Card issued by the NTA.
9. Any request to change the Examination Centre, Date and Time provided on the Admit Card shall not be considered under any circumstances.
10. Candidates are advised to take 6-8 Passport size and 4-6 Post Card size (4"X6") colored photographs
with white background.
The photographs are to be used for uploading on Online Application Form, for examination and also
for Counselling/Admission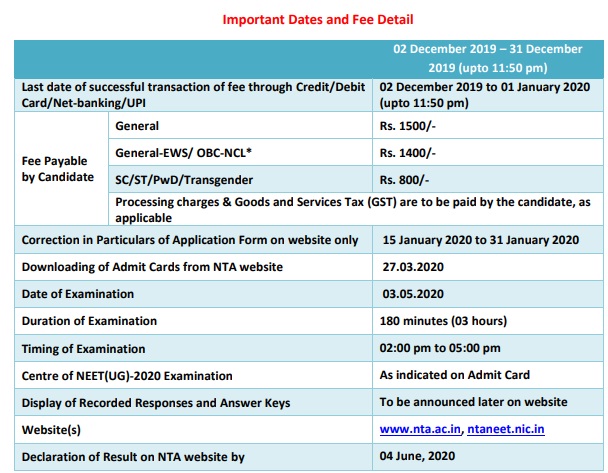 NEET 2020 Registration Form: Click Here
NEET 2020 Information Booklet: Click Here
NEET UG Syllabus: Click Here
NEET 2020 Result: updated later on on NTA official website