CONDUCTOMETRY PART-2: Instrumentation and Conductometry Titration with Question-Answer
INSTRUMENTATION OF CONDUCTOMETER :-
Current source :- Alternative current source is used. High frequency alternating current generator is employed. electrical potential is applied ions will be transfer and ultimately conductance take place.
Conductivity meter :- Digital display, calibrator,power switch.
Conductivity cell :- Made of pyrex or quartz and are fitted with two platinum electrodes. Should be placed in vessel containing water to maintain constant temp. types of conductivity cells are TYPE-A, TYPE-B, & TYPE-C.
Electrodes :- Platinum sheets each of 1 cm are fixed at distance of 1 cm. the surface is coated with platinum black to avoid polarization effect & increase effective surface area. platinisation of electrodes is done by coating solutions 3% chlorplatinic acid & lead acetate on it to gel uniform coating. electrode usage depends on conductivity & concentration.
CONDUCTOMETRIC TITRATION :-
Determination of end point of a titration with the help of conductivity measurements is termed as conductometric titrations.
In a conductometric titration the titrant is added.
The values of conductivity are then plotted against the volume of the titrant in C.C.
Since the measured conductivity is a linear function of the conc. of ions present two lines will be obtained which will intersect each other at a point known as "end point" or "equivalence point"
TYPES OF CONDUCTOMETRIC TITRATION :-
Acid base titration
Replacement titration
Redox titration
Complexometric titration
Precipitation titration
•  ACID – BASE TITRATION :-
• Strong acid- strong base titration  :- Fall in conductance due to replacement of high conductivity hydrogen ions by poor conductivity of sodium ions. Rise in conductance due to increase in hydroxyl ions.
e.g. HCl vs NaOH
• Strong acid – weak base titration :- Fall in conductance due to replacement of hydrogen by ammonium ions. conductance remain constant due to suppression of NH4OH by NH4Cl
e.g. HCl vs NH4OH
• Weak acid – strong base  titration:- Initial decrease in conductance followed by increase due to NaOH.
e.g. CH3OOH VS NaOH
• Weak acid – weak base  titration :- Increase in conductance due to excess of CH3COOH. Constant conductance due to suppression of NH4OH by CH3COOH.
e.g. CH3OOH VS NH4OH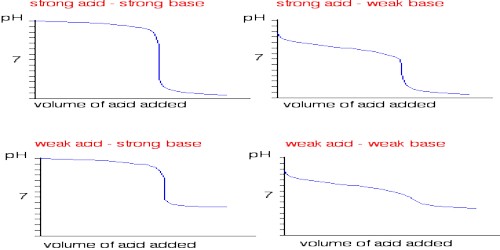 MCQ.
1. Conductivity cells are made up of
a. Two silver rods
b. Two parallel sheets of platinCm
c. Glass membrane of Ag/AgCl
d.Sb-Sb2o3
2. The units for specifi conductance is :
a.Ohms
b.Ohms cm
c.Mhos
d.Mhos cm
3. Which is not type of conductivity cells?
a.TYPE-A
b.TYPE-B
c.TYPE-C
d.TYPE-D
4. Which material are used for coating a conductivity cell ?
a. Platinum black
b. Platinum
c. Copper
d. Iron
5. Which material are use in old platinisation of conductivity electrode ?
a. Chloroplatinic acid
b. Acetic acid
c. Sulphuric acid
d. Nitric acid
ANSWER KEY :-
1.b
2.b
3.d
4.a
5.a
REFERENCE 
TEXT BOOK OF PHARMACEUTICAL ANALYSIS THIRD EDITION Dr.S. RAVI SANKAR (PAGE NO. 10.1-10.15)
For More Standard and Quality Question Bank you can Join Our Test Series Programme for GPAT, NIPER JEE, Pharmacist Recruitment Exam, Drug Inspector Recruitment Exams, PhD Entrance Exam for Pharmacy
Participate in Online FREE  GPAT  TEST: CLICK HERE
  Participate in Online FREE  Pharmacist  TEST: CLICK HERE 
Participate in Online FREE  Drug Inspector  TEST: CLICK HERE