ESZOPICLONE Synthesis, SAR, MCQ,Structure,Chemical Properties and Therapeutic Uses

Eszopiclone
IUPAC nomenclature
(S)-(+)-6-(5-Chloro-2-pyridinyl)-7-oxo-6,7-dihydro-5H-pyrrolo[3,4-b]pyrazin-5-yl-4-methyl-1-piperazinecarboxylate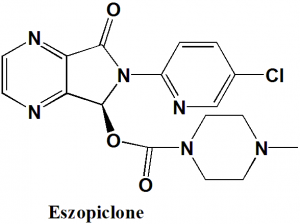 Classification
Eszopiclone is a nonbenzodiazepine sedative-hypnotic.
Physiochemical Properties
S. NO.
PHYSICAL AND CHEMICAL PROPERTIES
1
Molecular weight
388.8 g/mol
2
Physical appearance
White to light yellow crystalline solid
3
Melting point
202-203°C
4
Octanol/water partition coefficient
0.81
5
Solubility
Soluble in water
6
Presence of ring
Pyrrolopyrazine, piperidine, benzene
7
Number of chiral centers
1
 
Mechanism of Action
The drug binds with GABAA receptors at the site near the diazepine site. This increases the GABAA channel currents significantly, which leads to CNS depression.
Structure Activity Relationship
Eszopiclone is having 50 folds higher affinity for GABAA receptors than the (R) enantiomer.
Racemic mixture has a shorter half-life.
Enantiomeric separation of the (S) –enantiomers decreases the side effects such as residual sedative effects. [1]
Method of synthesis
i. Reduction of 6-(5-chlorine-2-pyridyl)-5,6-dioxo-6,7-dihydro-5H-pyrrol(3,4-b)pyrazine chiral reagent to obtain 6-(5-chlorine-2-pyridyl)-5(S)-hydroxyl-7-oxo-6,7-dihydro-5H-pyrrol(3,4-b)pyrazine.
ii. Reaction of the (2) with 1-chloroformyl-4-methylpiperazine hydrochloride (2) under the action of organic base to obtain the Eszopiclone [2]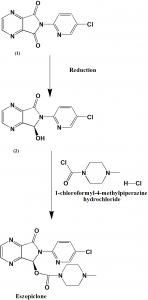 Therapeutic Uses
Eszopiclone is used for:
 Side Effects
Side effects of Eszopiclone are:
Dizziness
Difficulty in coordination
Dry mouth
Unpleasant taste
Hallucinations
Mood changes
Aggressiveness
Suicidal thoughts
Anxiety
Confusion
Depression
MCQ
Q.1 Correct statements related to the physicochemical properties of drug Eszopiclone are?
I. Molecular weight: 388.8 gm/mol
II. White to yellow in appearance
III. Octanol/water partition coefficient is 0.81
IV. No chiral carbon atoms are present in structure 
a) I, II
b) I II, III
c) II, IV
d) II, IV
Q.2 Match the following of the drugs with their correct IUPAC names.
| | |
| --- | --- |
| i. Flavoxate | A. 2-(1-piperidyl)ethyl 3-methyl-4-oxo-2-phenylchromene-8-carboxylate |
| ii. Eszopiclone | B. 7-Chloro-5-(2-chlorophenyl)-3-hydroxy-1,3-dihydro-1,4-benzodiazepin-2-one |
| iii. Chlordiazepoxide | C. 7-Chloro-2-methylamino-5-phenyl-3H-1,4-benzodiazepine-4-oxide |
| iv. Lorazepam | D. (S)-(+)-6-(5-Chloro-2-pyridinyl)-7-oxo-6,7-dihydro-5H-pyrrolo[3,4-b]pyrazin-5-yl-4-methyl-1-piperazinecarboxylate |
 a) i-B, ii-C, iii-A, iv-D
b) i-D, ii-A, iii-B, iv-C
c) i-A, ii-B, iii-C, iv-D
d) i-A, ii-D, iii-C, iv-B
Q.3 Correct steps for the mechanism of action of the drug Eszopiclone?
I. Binding with GABAA­ receptors
II. Increase the Binding of GABA to the GABAA receptors
III. Decreases of the binding of GABA to the GABAA receptors
IV.Enhancement of the GABA mediated chloride influx
a) I – III – IV
b) I – IV – II
c) II – III – IV
d) I – II – IV
Q.4 Correct sequence for True/false for the classification of the drug can be?
Flavoxate: Nicotinic acetylcholine antagonist
Aszopiclone: nonbenzodiazepine sedative-hypnotic
Chlordiazepoxide: Muscarinic acetylcholine antagonist
Lorazepam: Benzodiazepine sedative hypnotic
a) TTFT
b) FFTT
c) FTFT
d) TFTT
Q.5 Correct order for the steps for synthesis of Eszopiclone from 6-(5-chlorine-2-pyridyl)-5,6-dioxo-6,7-dihydro-5H-pyrrol(3,4-b)pyrazine.
I. Reduction
II. Hydrolysis
III. Reaction with 1-chloroformyl-4-methylpiperazine hydrochloride 
a) II – I – III
b) I – III – II
c) II – III
d) I – III
Q.6 Types of ring structure present in Eszopiclone ?
I. Chromine
II. Benzene
III. Piperidine
IV. Pyrrolopyrazine
a) I, II, III, IV
b) II, IV
c) I, III
d) II, III, IV 
Q.7 Side effect of drug Eszopiclone?
a) Dizziness
b) Confusion
c) Hallucinations
d) All of the above 
For More Standard and Quality Question Bank you can Join Our Test Series Programme for GPAT, NIPER JEE, Pharmacist Recruitment Exam, Drug Inspector Recruitment Exams, PhD Entrance Exam for Pharmacy
Participate in  Free Online Test for GPAT, Pharmacist,Drug Inspector
ANSWERS
1-b
2-d
3-d
4-c
5-d
6-d
7-d
REFERENCES
[1] Lemke TL, Zito SW, Roche VF, Williams DA. Essentials of Foye's principles of medicinal chemistry. Wolters Kluwer; 2017, 473-474. [2] Mandava VN, Kandala S, Jambula MR, Chinta RR, inventors; Reddy's Laboratories Ltd, Reddy's Laboratories Inc, assignee. Eszopiclone process. United States patent US 7,476,737. 2009 Jan 13.