UMIFENOVIR Synthesis, SAR, MCQ,Structure,Chemical Properties and Therapeutic Uses in Influenza

Umifenovir
IUPAC nomenclature
Ethyl 6-bromo-4-[(dimethylamino)methyl]-5-hydroxy-1-meth yl-2-[(phenylsulfanyl)methyl]-1H-indole-3-carboxylate.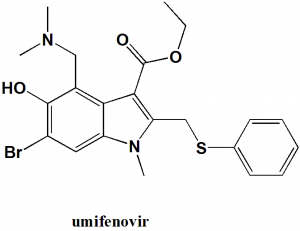 Classification
Umifenovir belongs to class fusion inhibitors.
Physiochemical Properties
S. NO.
PHYSICAL AND CHEMICAL PROPERTIES
1
Molecular weight
477.74  g/mol
2
Physical appearance
Solid
3
Melting point
133-137°C
4
Solubility
Water solubility is 0.00678 mg/ml
5
Presence of ring
Indole, benzene
6
Number of chiral centers
Not present
 
Mechanism of Action
The drug acts on aromatic residues within the glycoprotein which are important for cellular recognition and fusion. This interfere with clathrin-mediated exocytosis and intracellular trafficking, directly at the plasma membrane itself. This stabilizes the plasma membrane and prevent the entry of virus. [1]
Structure Activity Relationship
Increasing the size of the group at indoleposition 4 from a dimethylamino group to a piperazine do not dramaticallyimprove binding to H3.
Increasing the size of the aromatic ring at position 2 does not generate improved interactions, nor did the addition of a meta-NH2 with respect to the thiol.
Binding affinity increases by eightfold when the dimethylamino group at indole position 4 on Arbidol is removed for H3 HA.
By attaching a hydroxy group in the meta-position, it would be possible to increase the binding by displacing an ordered water molecule the binding pocket next to Arbidol.
Method of synthesis
Formaldehyde, dimethylamine and ethyl-6-bromo-5-hydroxy-1-methyl-2-(phenylsulfanylmethyl)indole-3-carboxylate to get Umifenovir.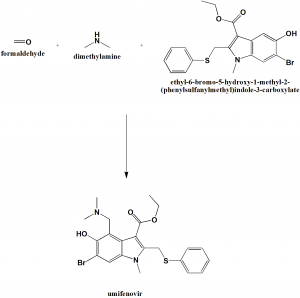 Therapeutic Uses
Umifenovir is used for:
Treatment of symptoms of influenza virus.
Treatment of hepatitis C
Investigation drug for the treatment for COVID-10/SARS-CoV-2 Outbreak
Side Effects
Side effects of Umifenovir are:
Sensitization of the drug
Allergic reactions
                                                        MCQ
Q.1 Choose the correct statements related to the physicochemical properties of drug umifenovir-
I. Molecular weight is 477.74 gm/mol
II. Present in solid form
III. It is very soluble in water
IV. Melting point is 273K 
a) I, II
b) I, III
c) III, IV
d) I, III, IV
Q.2 Match the following of the drugs with their correct Trade names.
| | |
| --- | --- |
| i. Umifenovir | A. Topotel |
| ii. Daunorubicin | B. Arbidol |
| iii. Topotecan | C. Dacmozen |
| iv. Dactinomycin | D. Myeleran |
 a) i-B, ii-C, iii-D, iv-A
b) i-B, ii-C, iii-A, iv-D
c) i-C, ii-A, iii-D, iv-B
d) i-A, ii-D, iii-B, iv-C
Q.3 Umifenovir do not let the virus to?
a) Use the host machinery
b) Infect other cells
c) Grow in size
d) Synthesize DNA
Q.4 Correct sequence for True/false for the classification of the drug can be?
Umifenovir: Neuraminidase inhibitor analogue
Cidofovir: Nonnucleoside reverse transcriptase inhibitor
Ribavirin: Conventional nucleoside analogue
Tipranavir: HIV protease inhibitor
a) TTTT
b) TTTF
c) FTTT
d) TFTT
Q.5 When the dimethylamino group at indole position-4 arbidol is removed?
a) Biding affinity increases
b) Activity of drug increases
c) Biovailability increases
d) Activity decreases
Q.6 Type/s of ring present in the structure of Umifenovir?
I. Cyclopentyle
II. Indole
III. Benzene
a) II, III
b) I, II
c) I
d) I, II, III 
Q.7 Side effect of drug Umifenovir?
a) Allergic reactions
b) Hallucinations
c) Confusion
d) All of the above
For More Standard and Quality Question Bank you can Join Our Test Series Programme for GPAT, NIPER JEE, Pharmacist Recruitment Exam, Drug Inspector Recruitment Exams, PhD Entrance Exam for Pharmacy
Participate in Online FREE  GPAT  TEST: CLICK HERE
  Participate in Online FREE  Pharmacist  TEST: CLICK HERE 
Participate in Online FREE  Drug Inspector  TEST: CLICK HERE 
ANSWERS
1-a
2-b
3-b
4-d
5-a
6-a
7-a
REFERENCES
[1] Boriskin YS, Leneva IA, Pecheur EI, Polyak SJ. Arbidol: a broad-spectrum antiviral compound that blocks viral fusion. Current medicinal chemistry. 2008 Apr 1;15(10):997-1005.