CETIRIZINE Synthesis, SAR, MCQ,Structure,Chemical Properties and Therapeutic Uses

Cetirizine
IUPAC nomenclature
(±)-[2-[4-[(4-Chlorophenyl)phenylmethyl]-1-piperazinyl]ethoxy]acetic acid.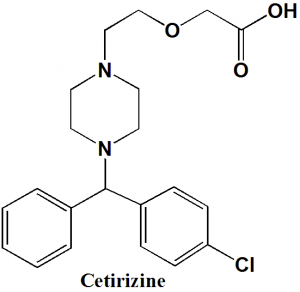 Classification
H1-receptor antihistamine
Piperazine antihistamine
Physiochemical Properties
S. NO.
PHYSICAL AND CHEMICAL PROPERTIES
1
Molecular weight
389.9 g/mol
2
Physical appearance
Solid
3
Melting point
110-115oC
4
Solubility
101 mg/L
5
Octanol/water partition coefficient
2.8
5
Presence of ring
Piperazine, phenyl
6
Number of chiral centers
1
Mechanism of Action
Cetirizine is a metabolite of hydroxyzine.
It selectively inhibits peripheral H1 receptors.
Structure Activity Relationship
Structure activity of piperizine antihistamines can be summarized as:
These are the derivatives of ethylene diamines.
The connecting moiety is CHN group
Primary structural difference is nature of para aromatic ring substituent
These are moderately potent.
Slow onset of action
Low incidence of drowsiness
They also exhibit peripheral and central antimuscarinic activity.
Method of synthesis
i. 4-chlorobenzhydryl chloride is reacted with N-carbethoxypiperazine in presence of sodium carobonate to give ethyl-4-(4-chlorobenzhydryl)-piperazine-1-carboxylate.
ii. The above formed compound is treated with hydrochloric acid to get 1-(4-chlorodiphenylmethyl)piperazine.
iii. The last is reacted with methyl 2-(2-chloroethoxy)acetate in presence of sodium carbonate to give methyl 2-[2-[4[(4-chlorodiphenylmethyl)-1-piperazinyl]ethoxy]acetate.
iv. On treating the above formed compound with KOH produces cetirizine. [1]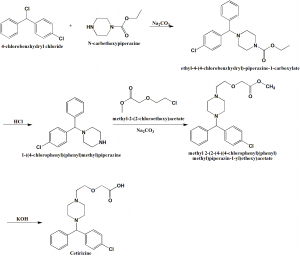 Medicinal Uses
Cetirizine is used for treatment of:
Allergy symptoms
Watery eyes
Runny nose
Itching
Sneezing
Hives
 Side Effects
Side effects of Cetirizine are:
Drowsiness
Tiredness
Dry mouth
Stomach pain
MCQs
Q.1 Mechanism of action of Cetirizine drug includes?
a) Binds with H2 receptor
b) Conversion into hydroxyzine
c) Vasoconstriction
d) Agonist effects H1 receptor for Histamine
Q.2 Medicinal use of drug Cetirizine is/are?
a) Allergy symptoms
b) Watery eyes
c) Sneezing
d) All of the above
Q.3 Select the correct option from below related with the SAR of piperazine antihistamines-
a) These are derivatives of Pyrimidines
b) They have low incidence of drowsiness
c) They are highly potent
d) They exhibit very fast onset of action
Q.4 Number of chiral carbons present in the structure of Cetirizine is?
a) 0
b) 1
c) 2
d) 3
Q.5 Correct sequence for the True/False for the physiochemical properties of the drug Cetirizine can be?
Molecular weight: 652.3 gm/mol
Physical appearance: Oil
Octanol/water partition coefficient: 2.8
a) TTT
b) TFT
c) FFT
d) TFF
Q.6 Correct statements for the IUPAC nomenclatures of the drugs are?
I. Lansoprazole: 1-cyano-2-methyl-3-[2-[(5-methyl-1H-imidazol-4-yl)methylsulfanyl]ethyl]guanidine
II. Hydroxyaphetamine: (RS)-2-([4-(3-Methoxypropoxy)-3-methylpyridin-2-yl]methylsulfinyl)-1H-benzo[d]imidazole.
 III. Cetirizine: (±)-[2-[4-[(4-Chlorophenyl)phenylmethyl]-1-piperazinyl]ethoxy]acetic acid
IV. Triprolidine: 2-[(E)-1-(4-methylphenyl)-3-pyrrolidin-1-yl-prop-1-enyl]pyridine
a) I, II
b) III, IV
c) IV
d) I, II, III, IV
 Q.7 Match the following drugs with their correct classifications-
| | |
| --- | --- |
| i. Cetirizine | A. H1-receptor antihistamine |
| ii. Acetaminophen | B. Sedative-hypnotic |
| iii. Nalorphine | C. Anti-inflammatory |
| iv. Alprazolam | D. Narcotic antagonist |
 a) i-A, ii-C, iii-D, iv-B
b) i-D, ii-A, iii-C, iv-B
c) i-D, ii-B, iii-A, iv-C
d) i-B, ii-D, iii-A, iv-C
For More Standard and Quality Question Bank you can Join Our Test Series Programme for GPAT, NIPER JEE, Pharmacist Recruitment Exam, Drug Inspector Recruitment Exams, PhD Entrance Exam for Pharmacy
Participate in Online FREE  GPAT  TEST: CLICK HERE
  Participate in Online FREE  Pharmacist  TEST: CLICK HERE 
Participate in Online FREE  Drug Inspector  TEST: CLICK HERE 
Participate in CSIR NET JRF Mock Test
ANSWERS
1-b
2-d
3-b
4-b
5-c
6-b
7-a
REFERENCES
[1] EP 58 146 (UCB; appl. 5.2.1982; GB-prior. 6.2.1981, 8.4.1981).