HYDROXYZINE Synthesis, SAR, MCQ,Structure,Chemical Properties and Therapeutic Uses
Hydroxyzine
IUPAC nomenclature
(±)-2-(2-{4-[(4-chlorophenyl)-phenylmethyl]piperazin-1-yl}ethoxy)ethanol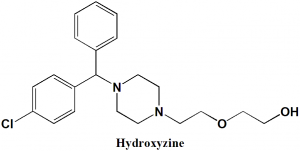 Classification
H1-receptor antihistamine
Piperazine antihistamine
Physiochemical Properties
S. NO.
PHYSICAL AND CHEMICAL PROPERTIES
1
Molecular weight
374.9 g/mol
2
Physical appearance
Solid or oil
3
Melting point
190oC
4
Solubility
428 mg/L in water
5
Octanol/water partition coefficient
2.7
5
Presence of ring
Piperazine, phenyl
6
Number of chiral centers
1
Mechanism of Action
i. Hydroxyzine acts as an inverse agonist for H1 receptors.
ii. This inverse agonism is responsible for efficacy of the drug in the treatment of histaminic edema, flare and pruritus.
iii. Sedative properties of the drug allows activity as an anxiolytic.
iv. Anti-emetic properties are secondary to activity at the off-targets.
Structure Activity Relationship
Structure activity of piperizine antihistamines can be summarized as:
These are the derivatives of ethylene diamines.
The connecting moiety is CHN group
Primary structural difference is nature of para aromatic ring substituent
These are moderately potent.
Slow onset of action
Low incidence of drowsiness
They also exhibit peripheral and central antimuscarinic activity.
Method of synthesis
Alkylation of 1-(4-chlorobenzhydryl)piperazine with 2-(2-hydroxyethoxy)ethylchloride gives hydroxyzine.[1]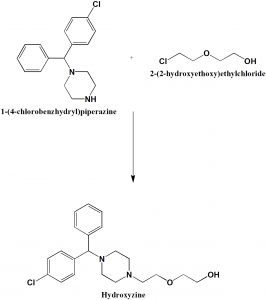 Medicinal Uses
Hydroxyzine is used for treatment of:
Itching
Anxiety
Histaminic edema
Flare
Pruritus
Chronic urticaria
Management of agitation caused due to alcohol withdrawl
Motion sickness
Nausea
Vomiting
Side Effects
Side effects of Hydroxyzine are:
Dizziness
Blurred vision
Dry mouth
Constipation
Mood changes
Restlessness
Hallucinations
Tremors
Difficulty urination
Seizures
Irregular heartbeats
Fainting
Allergic reactions
MCQs
Q.1 Correct statements from the following related with the physicochemical properties of drug Hydroxyzine are?
I. Molecular weight: 374.9 gm/mol
II. Appearance: Solid or oil
III. Melting Point:190 oC
IV. Solubility: Insoluble in water
a) I, II, III
b) I, III, IV
c) II, IV
d) I, II, III, IV
Q.2 Match the following of the drugs with their correct IUPAC names.
| | |
| --- | --- |
| i. Hydroxyzine | A. (RS)-6-(Difluoromethoxy)-2-[(3,4-dimethoxypyridin-2-yl)methylsulfinyl]-1H-benzo[d]imidazole |
| ii. Dimethindene | B. N,N-Dimethyl-2-[3-(1-pyridin-2-ylethyl)-1H-inden-2-yl]ethan-1-amine |
| iii. Doxylamine | C. (RS)-N,N-dimethyl-2-(1-phenyl-1-pyridin-2-yl-ethoxy)-ethanamine |
| iv. Pentoprazole | D. 11-(1-Methylpiperidin-4-ylidene)-6,11-dihydro-5H-benzo[5,6]cyclohepta[1,2-b]pyridine |
 a) i-D, ii-B, iii-C, iv-A
b) i-A, ii-B, iii-D, iv-C
c) i-B, ii-C, iii-A, iv-D
d) i-A, ii-C, iii-D, iv-B
Q.3 Mechanism of action of drug Hydroxyzine involves?
I. Antagonist for H1 receptor
II. Inverse agonist for H1 receptor
III. Also anxiolytic activity
a) I, III
b) I, IV
c) I, II, III
d) II, III
Q.4 Correct sequence for True/false for the classification of the drug can be?
Hydroxizine: H1-receptor antihistamine drug
Enflurane: Sedative-hypnotics
Tripelenamine: H1-antagonist
Dexamethasone: Corticoids
a) TFTF
b) TTFF
c) TFTT
d) TFFT
Q.5  The connecting link in the structure of piperazine antihistamines is?
a) CHN
b) CHO
c) Acetic anhydride
d) None of the above
Q.6 Type of rings present in the structure of Hydroxyzine?
I. Phenyl
II. Piperazine
III. Piperidine
IV. Benzodiazepine
a) I, IV
b) I, II
c) II, III
d) II
Q.7 Side effect of drug Hydroxyzine is/are?
a) Constipation
b) Dry mouth
c) Tremors
d) All of the above
For More Standard and Quality Question Bank you can Join Our Test Series Programme for GPAT, NIPER JEE, Pharmacist Recruitment Exam, Drug Inspector Recruitment Exams, PhD Entrance Exam for Pharmacy
Participate in Online FREE  GPAT  TEST: CLICK HERE
  Participate in Online FREE  Pharmacist  TEST: CLICK HERE 
Participate in Online FREE  Drug Inspector  TEST: CLICK HERE 
Participate in CSIR NET JRF Mock Test
ANSWERS
1-a
2-a
3-d
4-c
5-a
6-b
7-d
REFERENCES
[1] Vardanyan R, Hruby V. Synthesis of essential drugs. Elsevier; 2006 Mar 10.