CYCLOPHOSPHAMIDE Synthesis, SAR, MCQ and Chemical Structure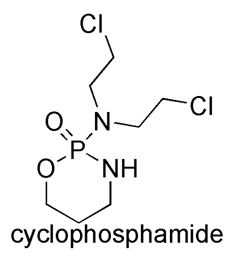 Cyclophosphamide
IUPAC nomenclature
(RS)-N,N-bis(2-chloroethyl)-1,3,2-oxazaphosphinan-2-amine 2-oxide
Classification
Cyclophosphamide falls under the category of alkalyting agents.
Physiochemical Properties
S. NO.
PHYSICAL AND CHEMICAL PROPERTIES
1
Molecular weight
261.08g/mol
2
Appearance
Fine white colored crystalline powder
3
Melting point
106 to 113 °F
4
Solubility
1 to 5 gm can be dissolved in 100 ml of water
5
Octanol water partition coefficient
0.8
6
Presence of ring
oxazophosphorine ring
Mechanism of Action
In those cells of the body which are having low levels of ALDH, cyclophosphamide metabolized to phosphoramide mustard.
The metabolite will form cross-linkage between and within the DNA strands at guanine N-7 positions.
This will finally results into the apoptosis which will lead to the death of the cell. [1]
Structural Activity Relationship
Replacement of the sulfur atom by nitrogen will lower the toxicity.
2-chloroethyl group is essential for the activity as the aziridine cation is formed by this only. Aziridine cation will attach with the alkylates of the DNA later.
Binding with the amino group will increase the oral route availability o the drug
The introduction of the substituted phenyl group will also increases the oral route availability of the drug.
Aromatic ring introduction will increase the stability of the drug.
Aromatic ring will further increase the distribution of the drug throughout the body.
Benzimidazole ring can provide the local and faster action of the drug.
Benzimidazol will further decrease the half life of compound. [2]
Methods of Synthesis
Bis(2-hydroxyehyl)amine is treated with SOCL2 in the presence of chloroform.
Product so formed (bis(2-chloroethyl)amine is then treated with POCl3 in the presence of pyridine.
Finally it is reacted with 3-aminopropanol to obtain the cyclophosphamide.
Therapeutic Uses
Treatment of autoimmune diseases
Treatment of lymphomas, brain cancers, neuroblastoma, leukemia and solid tumors
Treatment of AL amyloidosis when given in combination with thalidomide or lenalidomide and dexamethasone.
Side Effects
Nausea and vomiting
Bone marrow suppression
May harm the hair follicles, thus effects the growth of hairs.
Joint pain and mouth sores may occur.
Tiredness and weakness.
Delayed healing of the wounds
Leucopenia, infection and bladder toxicity [3]
MCQs
Q.1 What is the correct IUPAC name of cyclophosphamide?
a)2-Chloro-N,N-bis-(2-chloroethyl)-N-methylethan-1-amine
b) (RS)-N,N-bis(2-chloroethyl)-1,3,2-oxazaphosphinan-2-amine 2-oxide
c)2-Chloro-N-(2-chloroethyl)-N-methylethan-1-amine
d) 1,3,2-oxazaphosphinan-2-amine 2-oxide
Q.2 What can be the correct sequence for the action of Cyclophosphamide

I. formation of cross linkages in the DNA by the action of metabolites

II. conversion of cyclophosphamide into phospharimide mustard

III. death of cell through apoptosis

 a) I,II,III

b) II,I,III

c) III,II,I

d) II,III,I

Q.3 Aromatic ring substitution on cyclophosphamide will

a) increase the stability of drug

b) decrease the stability of drug

c) decreases the distribution of drug in body

d) none of the above

Q.4 Cyclophosphamide can be synthesized from?

a) ammonia

b) Bis(2-hydroxyehyl)amine

c) ethylene oxide

d)ammonia and methanamine

Q.5 Cyclohophamide is used for the treatment of

a) auto immune disorder

b) cancer

c)both a and b

d) cardiac arrhythmia

Q.6 Classification of the cyclophosphomide is?

a) antibacterial drug

b) calcium channel blocker

c) COX-2 inhibitors

d) alkalyting agent

 Q.7 Which type of ring is present in the Cyclophosphamide?

a) indole ring

b) benzene ring

c) oxazophosphorine ring

d) none of the above

For More Standard and Quality Question Bank you can Join Our Test Series Programme for GPAT, NIPER JEE, Pharmacist Recruitment Exam, Drug Inspector Recruitment Exams, PhD Entrance Exam for Pharmacy: Click Here

Answers

1- b

2- b

3- a

4- b

5- c

6- d

7- c

 

 

References

[1] Tripathi KD. Essentials of medical pharmacology. JP Medical Ltd; 2013 Sep 30.: p.822. [2] Pires J, Kreutz OC, Suyenaga ES, Perassolo MS. PHARMACOLOGICAL PROFILE AND STRUCTURE-ACTIVITY RELATIONSHIP OF ALKYLATING AGENTS USED IN CANCER TREATMENT. [3] Wilson CO, Beale JM, Block JH. Wilson and Gisvold's textbook of organic medicinal and pharmaceutical chemistry. Baltimore, MD: Lippincott Williams & Wilkins,; 2011: pp.360-362.