HYDROFLUMETHIAZIDE Synthesis, SAR, MCQ,Structure,Chemical Properties and Therapeutic Uses

Hydroflumethiazide
IUPAC nomenclature
1,1-Dioxo-6-(trifluoromethyl)-3,4-dihydro-2H-1,2,4-benzothiadiazine-7-sulfonamide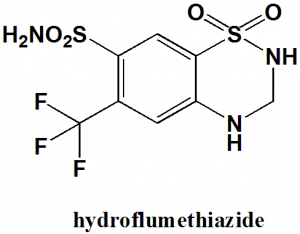 Classification
Physiochemical Properties
S. NO.
PHYSICAL AND CHEMICAL PROPERTIES
1
Molecular weight
331.3 g/mol
2
Physical appearance
White to cream colored crystalline powder
3
Melting point
272-273oC
4
Solubility
Freely soluble in acetone; soluble in alcohol
5
Octanol/water partition coefficient
0.36
5
Presence of ring
Benzothiazine
6
Number of chiral centers
Not present
­­­­­
Mechanism of Action
Hydroflumethiazide inhibits the sodium-chloride symportor in the DCT which further inhibits the reabsorption of water.
Sodium-chloride transportor facilitates the entrance of sodium into the epithelial cells in the DCT. The influx of sodium establishes an osmotic gradient which is necessary for water reabsorption.
Structure Activity Relationship
General structure activity of thiazide diuretics can be summarized as:
Chlorothiazide is the simplest member of the series.
Hydrogen atom at the 2-N is most acidic due to presence of electron-withdrawing group.
Sulfonamide group at C-7 position provides additional acidity to the drug.
Electron withdrawing group is essential at position 6 for diuretic activity of the drug.
Substitution on hydrogen at 6 position gives little diuretic activity, whereas, substitution with chloro and trifluoromethyl groups gives highly active compounds.
Substitution of electron donating group at position 6 significantly reduces the diuretic activity.
Replacement or removal of sulfonamide groups from position 7 significantly reduces the diuretic activity.
Saturation of the double bond to give 2,4-dihydro derivative are 10-folds more active than the unsaturated compounds.
Substitution of a lipophillic group at 3 position increases the potency.
Substitution with the entities such as haloalkyl, aralkyl or thioether gives compounds with longer duration of action due to increased lipid solubility.
Alkyl substitution at the 2-N position can increase the action duration. [1]
Method of synthesis
i. Chlorosulfonylation of 3-trifluoromethylamiline using chlorosulfonic acid to get 4-amino-6-(trifluoromethyl)benzene-1,3-disulfonyl dichloride.
ii. The last is reacted with ammonia to get the compound 4-amino-6-trifluoromethylbenzene-1,3disulfamide.
iii. Cyclization of the above formed compound using paraformaldehyde to get hydroflumethiazide drug.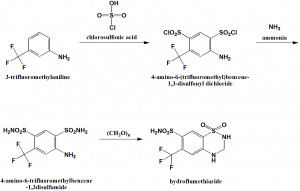 Medicinal Uses
Hydroflumethiazide is used for:
Management of hypertension
Management of edema related to CHF, chronic renal failure, glomerulonephritis, nephritic syndrome and hepatic cirrhosis.
Side Effects
Side effects of hydroflumethiazide are:
Nausea
Vomiting
Dizziness
Fatigue
Diarrhea
Low blood sodium and potassium levels
Loss of appetits
Stomach cramps
Sexual problems
High blood sugar level
Low blood pressure
MCQs
Q.1 Match the following with correct SAR of thiazide diuretics-
| | |
| --- | --- |
| i. Substitution of electron withdrawing groups at position 6th | A. Increases the diuretic activity |
| ii.  Removal of sulfonamide group from position 7 | B. Decreased the diuretic activity |
|   | C. Increases the diuretic activity |
|   | D. Decreases the diuretic activity |
 a) i-A, ii-C
b) i-A, ii-D
c) i-B, ii-C
d) i-B, ii-D
Q.2 Correct sequence for the True/False for correct IUPAC names of the drug can be?
Hydroflumethiazide: 2-[2-[bis(2-nitrooxyethyl)amino]ethyl-(2-nitrooxyethyl)amino]ethyl nitrate
Acetazolamide: 6-chloro-1,1-dioxo-2H-1,2,4-benzothiadiazine-7-sulfonamide.
Tolterodine: 3-O-ethyl 5-O-methyl 2-(2-aminoethoxymethyl)-4-(2-chlorophenyl)-6-methyl-1,4-dihydropyridine-3,5-dicarboxylate
Cocaine: 11-(1-Methylpiperidin-4-ylidene)-6,11-dihydro-5H-benzo[5,6]cyclohepta[1,2-b]pyridine
a) FFTF

b) FFFF

c) TFFT

d) TTTT

Q.3 Molecular weight of drug hydroflumethiazide is?

a) 475 gm/mol

b) 452.3 gm/mol

c) 331.3 gm/mol

d) 978.1 gm/mol

Q.4 Mechanism of action of hydroflumethiazide includes?

a) Alkylation of genetic material

b) Inhibition of Sodium-Chloride symportor in the DCT

c) Inhibition of hydrogen-potassium pump

d) All of the above

Q.5 Which amongst the following is a therapeutic use of drug hydroflumethiazide?

a) Management of hypertension

b) Treatment of peptic ulcers

c) As an antipsychotic

d) As an anesthetic

Q.6 Which of the following drug and their classification are correct?

I. Hydroflumethiazide: Diuretics

II. Nifedipine: Diuretics

III. Disopyramide: Calcium channel Blocker

IV. Verapamil: α-adrenergic agonist

a) I

b) II, IV

c) I, II, III, IV

d) I, III

Q.7 Type of ring present in the structure of Hydroflumethiazide?

a) Benzothiazine

b) Pyridine

c) Pyrimidine

d) Pyridine

 

For More Standard and Quality Question Bank you can Join Our Test Series Programme for GPAT, NIPER JEE, Pharmacist Recruitment Exam, Drug Inspector Recruitment Exams, PhD Entrance Exam for Pharmacy

Participate in Online FREE  GPAT  TEST: CLICK HERE

  Participate in Online FREE  Pharmacist  TEST: CLICK HERE 

Participate in Online FREE  Drug Inspector  TEST: CLICK HERE 

Participate in CSIR NET JRF Mock Test

ANSWERS

1-d

2-b

3-c

4-b

5-a

6-a

7-a

 

 

REFERENCES

 

[1] Lemke TL, Williams DA, editors. Foye's principles of medicinal chemistry. Lippincott Williams & Wilkins; 2012 Jan 24. [2] Holdrege, C.T. et al.: J. Am. Chem. Soc. (JACSAT) 81, 4807 (1959).