Formation of Bile Acids, Steroid Hormones and Vitamin D and MCQs for GPAT, NEET UPSC, Pharmacist, CSIR NET and Nursing Exam
Catabolism of cholesterol yields some important physiological products like:
Formation of bile acids
Formation of steroid hormones
Formation of vitamin C
Formation of bile acids
It is the main catabolic pathway. The primary bile acids synthesized in the liver are cholic acid and chenodeoxy cholic acid. The first reaction of synthesis of bile acids is the hydroxylation of cholesterol which forms 7-alpha-hydroxy cholesterol. This reaction is catalyzed by cholesterol7alpha-hydroxylase  enzyme. This is the principal and regulatory step for the biosynthesis of bile acid. cholesterol7alpha-hydroxylase  enzyme Requires oxygen, NADPH and cytochrome P450. Before the bile acids leave the liver, these formed bile acids are conjugated to a molecule of either glycine or taurine to form bile salts like:
Glycocholic or glycochenodeoxycholic acids
Taurocholic or taurochenodeoxycholic acids
In the alkaline bile, the bile acids and their conjugates are assumed to be in the salt form, and hence they are termed as bile salts. The primary bile acids are further metabolized in the intestine by the intestine bacteria and forms secondary bile acids. The secondary bile acids are deoxycholic acid and lithocholic acids.
Importance of bile acids
The bile acid helps in the emulsification of the ingested lipids and further facilitates its digestion and absorption.
Production of bile acid is the most important catabolic pathway of cholesterol. Continuous conversion of cholesterol into bile acids prevents the over-production of cholesterol in the body
Excretion of bile salts serves as major pathway for the removal of steroid nucleus from the body.
Formation of steroid hormones
Cholesterol serves as a major precursor for five types of steroid hormones which are:
Progesterone
Glucocorticoids
Mineralocorticoids
Androgens (sex hormones)
Estrogens
Cholesterol firstly forms progesterone. Progesterone further forms 3 types of hormones: glucocorticoids, androgens and mineralocorticoids. Androgens further converts and form estrogens.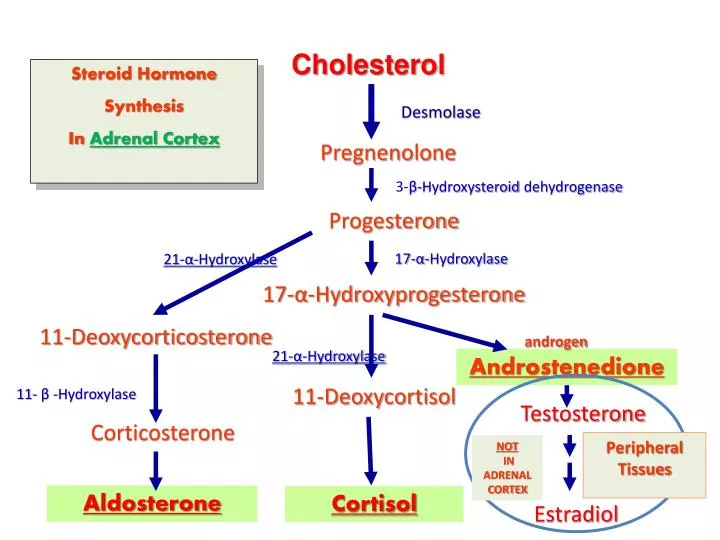 Cholesterol also serves as a precursor for the synthesis of vitamin D as well. Vitamin D further regulates the calcium and phosphate metabolism. There are two forms of vitamin D:
Vitamin D2 (Cholecalciferol)
Vitamin D3 (ergocalciferol)
Cholecalciferol is an inactive form of vitamin D. It further undergoes metabolism to produce the active form of vitamin that is 1,25 dihydroxycholecalciferol.
Multiple Choice Questions (MCQs)
1. What product is formed due to the degradation of cholesterol in the body?
A. Bile acid
B. Steroid hormones
C. Vitamin D
D. All of the above
2. Which of the following is termed as the main catabolic pathway of cholesterol?
A. Formation of bile acid
B. Formation of steroid hormone
C. Formation of Vitamin D
D. Both B and c
3. Where are the primary bile acid synthesized?
A. Brain
B. Intestine
C. Liver
D. Skeletal muscle
4. Which out of these is found in largest amount?
A. Cholic acid
B. Chenodeoxycgolic acid
C. Both present in equal amount
D. None of the above
5. The principal step for the formation of bile acid is catalyzed by which enzyme?
A. Creatine kinase
B. 7-alpha-hydroxylase
C. 5-nucleotidase
D. Glucose-6-phosphatase
6. Is the process of formation of bile acid aerobic or anerobic in nature?
A. Aerobic
B. Anerobic
C. Both A and B
d. Reason is not constant
7. When the bile acid leaves the liver, they are conjugated to which molecule?
A. Glycine
B. Lactate
C. Taurine
D. Both A and C
8. Match the following substrate and its product-
a. 7-alpha-hydroxy cholesterol            1. Vitamin D3
b. Progesterone                       2. estrogens
c. Androgens                            3. mineralocorticoids
d. 7-dehydrocholesterol         4. bile acids
9. In which medium, bile salts and their conjugates are assumed as bile salts?
A. Alkaline
B. Acidic
C. Neutral
D. Both A and B
10. Where are the primary bile acids metabolized?
A. Brain
B. Intestine
C. Liver
D. Skeletal muscle
11. The bile acids are majorly required for the digestion and absorption of which bio-molecule?
A. Vitamins
B. Proteins
C. Lipids
D. Carbohydrates
12. Which of the following statement is NOT True?
A. Synthesis of bile salts requires catabolism of adipose tissue
B. Vitamin D is of two forms
C. Dehydrogenation of cholesterol form 7-dehydrocholesterol
D. Metabolism of primary bile acids is done by intestinal bacteria
13. Which of the following serve as precursor for the formation of estrogens?
A. Mineralocorticoids
B. Bile acid
C. Glucocorticoids
D. None of the above
14. How many forms of Vitamin D are found?
A. 2
B. 3
C. 4
D. 5
15. Vitamin D regulates which of the following metabolism process? A. Potassium metabolism
B. Calcium metabolism
C. Phosphate metabolism
D. Both B and C
ANSWERS:-
1. All of the above
2. Formation of bile acid
3. Liver
4. Cholic acid
5. 7-alpha-hydroxylase
6. Aerobic
7. Both A and c
8. a – 4 b – 3 c – 2 d – 1
9. Alkaline
10. Intestine
11. Lipids
12. Synthesis of bile salts requires catabolism of adipose tissue
13. None of the above
14. 2
15. Both B and C
For More Standard and Quality Question Bank you can Join Our Test Series Programme for GPAT, NIPER JEE, Pharmacist Recruitment Exam, Drug Inspector Recruitment Exams, PhD Entrance Exam for Pharmacy
Participate in Online FREE  GPAT  TEST: CLICK HERE
Participate in Online FREE  Pharmacist  TEST: CLICK HERE 
Participate in Online FREE  Drug Inspector  TEST: CLICK HERE 
Participate in CSIR NET JRF Mock Test
REFERENCE:- Pankaja Naik- Biochemistry; 4th edition; page no:- 254-256